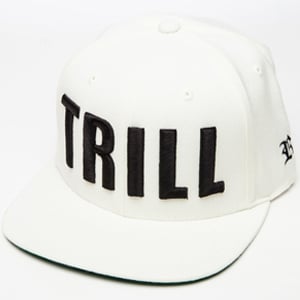 $

36.00
TRILL WHITE / CREAM SNAPBACK. Get the cream, Dolla dolla bills yall.
We like to keep it "OG" with the fresh classic snapbacks that became popular in the early 90's rap game with some of our favorite artist like, Ice Cube, Easy E, Snoop Dogg and Dr. Dre.
This particular style was inspired by ASAP Rocky and The Asap Mobb.
You know they keep it "TRILL"
Six panel twill construction using a blend of 80% acrylic and 20% wool. Embroidered with adjustable, snapback fit.